TOP 10 CITIES LISTENING TO BPN RADIO THIS PAST MONTH
 1. Humble, Texas
2. Palo Alto, California
3. Mount Laurel, New Jersey
4. Oklahoma City, Oklahoma
 5. Ottawa, Ontario
 6. Kingwood, Texas
 7. Wimberly, Texas
 8. Houston, Texas
 9. Camp Pendleton, California
 10. Irvine, California
TOP 10 NATIONS LISTENING TO BPN RADIO THIS PAST MONTH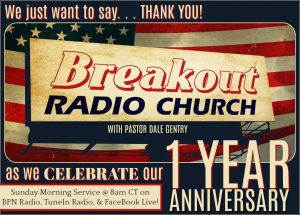 Tell your friends and family that our church services are being broadcast twice daily on BPN Radio at 8am & 8pm.
Tell your friends and family that don't have a pastor or a church about BRC. Membership applications are available on this website.
Pastor Dale Gentry will be leading prophetic services for the next 3 weeks at Breakout Radio Church. Don't miss the service this Sunday.
Please visit our new BRC Facebook page. Elder Gene Massey is giving oversight to this page. Please let us know if you have any suggestions.
Pastor Dale and Jean have completed their 50 Years in Ministry Video. Please view below.
October 8, 2016 – Website Update
The Breakout Radio Church website has been updated
You can try to access the Prayer room which is now called meeting
room without entering a password. Make use and connect with
Breakout Radio Church – BRC community.
August 21, 2016 – Church Service Static Noise
Michael sends his apologies for the interference this morning on BPN Radio church. Some settings were wrong in one of the audio processors causing the static. It was due to the audio signal being overdriven.  We were back to normal within a few minutes.
August 14, 2016 – Live Chatroom Set Up
To build our church community we have set up a chat room and would like to encourage you to visit and fellowship in the chatroom.
August 14, 2016 –  Church Services Website Updated
The church services archive has been updated and brought up to date. You can now listen to past church services going all the way back to the first church service.
August 13, 2016 –  BPN Radio Church Website
A Website has been created for BPN Church Members
You will find resources and everything related to the BPN Radio Ch